A high-protein low-carb diet has become very popular these days, and for good reason! Carbs are thought to contribute substantially to weight gain, so many people are turning to low-carb meals to help with weight loss. However, it can be a challenge to find a good variety of low-carb recipes, but that's where this post comes in!
We've compiled a list of our favorite high-protein meals that are also low-carb. For this post, we only list recipes that have more grams of protein than they have grams of carbs. This list includes low-carb meals for breakfast, lunch, and dinner!
Jump to:
Nutrition: 563 kcal, 13g carbs, 26g protein
This delicious Low Carb Pizza Bowl recipe is a simple grain-free meal that's perfect for meal prep! It's crustless pizza in a bowl! It is filled with creamy Italian cheese, spicy sausage, and nutritious cauliflower rice. It can also be made with any of your favorite pizza toppings. This recipe is grain-free, keto diet-friendly, and free of refined sugar!
Nutrition: 406 kcal, 10g carbs, 56g protein
This Low Carb Stuffed Chicken Recipe is a delicious, healthy dinner! This chicken breasts recipe is packed with a whopping 56 grams of protein! This recipe is ready on the grill or in the oven, it can be prepped the day before, and prepped in minutes. It's gluten-free and macro-friendly!
Nutrition: 306 kcal, 12g carbs, 25g, protein
This pulled chicken pressure cooker recipe is so simple and delicious! Let your pressure cooker work its magic and make chicken that's juicy and full of flavor. This recipe is great for a high-protein diet because you can make a batch of this pulled chicken and then use it for whatever you like! We love it in lettuce wraps, on top of sweet potatoes, on top of a salad, or just eaten on its own! It's the best way to meal prep for busy weeknights while switching up the flavor for your taste buds.
Nutrition: 323 kcal, 8g carbs, 35g protein
When thinking of a high-protein diet, pork chops don't always come to mind. But this recipe is one of our favorite low-carb dinners that is not chicken. Warm, comforting, cozy – All words to describe these tender pork chops smothered in cream of mushroom soup! This dish is a complete meal, and is ready in 30 minutes. This recipe is sure to please everyone in your home!
Nutrition: 389 kcal, 8g carbs, 28g protein
Fish is a superstar when it comes to low-carb foods that are high in protein. Fish is full of healthy fats and omega 3s. This creamy Mediterranean salmon is easy to make, ready in 15 minutes, and filled with flavor! Made with creamy Greek yogurt, bright lemons, and the wonder seasoning – steak seasoning. This healthy recipe is gluten-free, protein-packed, and made with only natural sugar!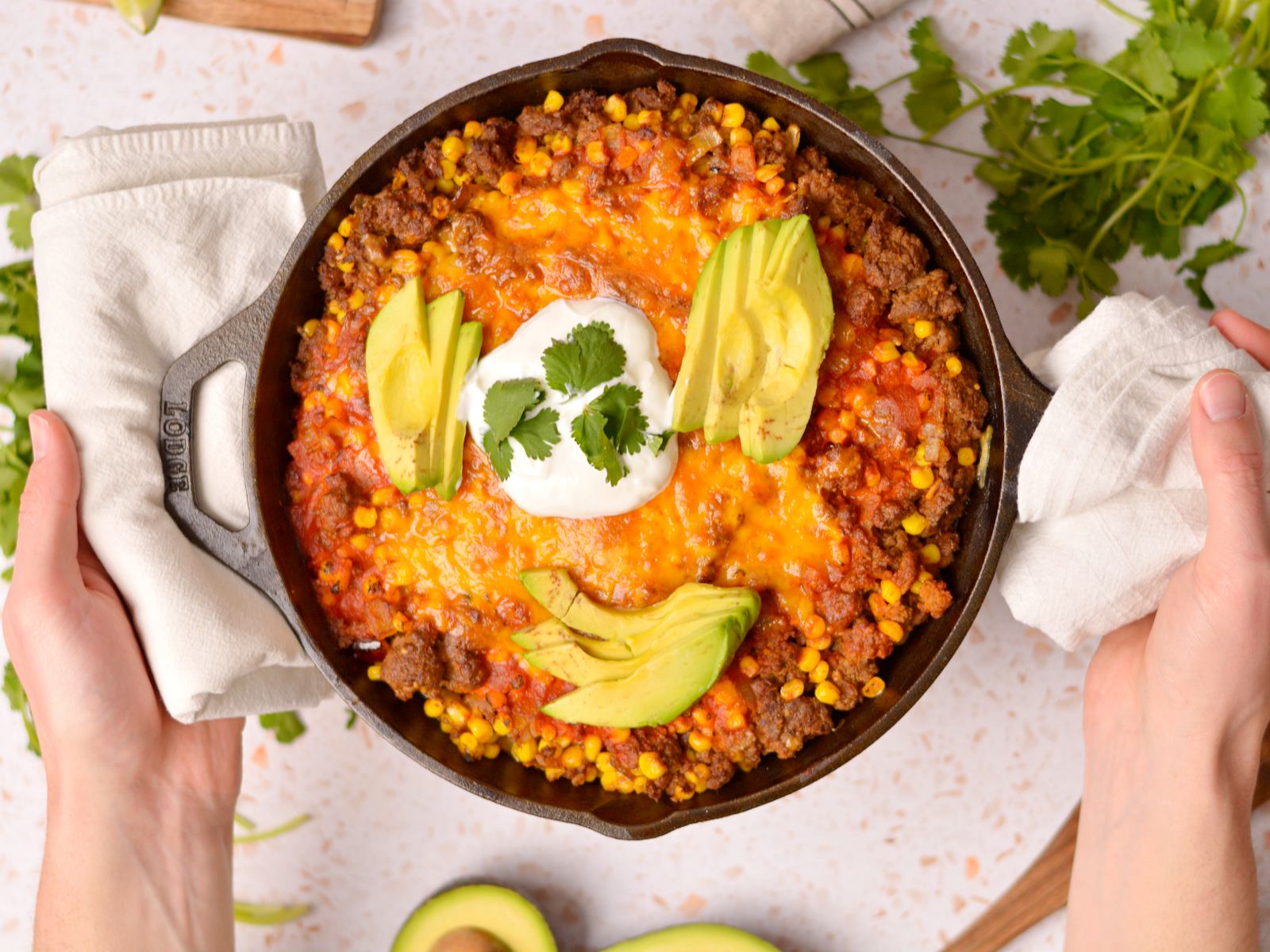 Nutrition: 314 kcal, 17g carbs, 17g protein
These Flat Beef Enchiladas are the BEST tasting, easy recipe! These enchiladas are layered instead of rolled, making them insanely simple to make and crazy fast to throw together! They will be the new favorite meal for the whole family! This recipe is made with corn but can easily be substituted for black beans or another vegetable.
Nutrition: 545 kcal, 27g carbs, 36g protein
The California Burger is a great burger for a warm summer evening. That's because this delicious burger is packed with the perfect combination of refreshing veggies and tasty sauces. Each mouthwatering bite has juicy burger, with the crunch of onion and the flavor blast from guacamole and chipotle sauce.
Nutrition: 258 kcal, 3g carbs, 21g protein
This Gyro Salad is a refreshing, healthy meal that's packed with protein and flavor! Made with a tangy tzatziki dressing, fresh veggies, and your favorite protein – we like chicken or lamb! This salad is a healthy way to pack in some grams of protein without the carbs.
Nutrition: 608 kcal, 28g carbs, 34g protein
This Italian Bowl is an easy, healthy meal that is perfect for meal prep. It is filled with salty pancetta, tangy banana peppers, and creamy Italian cheese. It's gluten-free, refreshing, and free of refined sugar!
Nutrition: 424 kcal, 12g carbs, 24g protein
This Beef and Vegetable Stir Fry is spicy, sweet, delicious, and the perfect weekday meal prep. It is ready in less than 30 minutes, packed with flavor, and is easy to make! It's gluten-free, dairy-free, and free of refined sugar!
Nutrition: 276 kcal, 7g carbs, 14g protein
Eggs are one of the best protein-rich foods that also happen to be a great way to start your day. This Southwest Egg Bake is spicy, creamy, and the perfect weekday meal prep or Sunday morning breakfast. It is ready in less than an hour, packed with protein, and filled with flavor! It only takes one bowl and can be kept in the fridge for one week, perfect for meal prep! It's gluten-free and made with only natural sugar!
Nutrition: 272 kcal, 27g carbs, 31g protein
Overnight Oats with Protein Powder are an easy, healthy breakfast meal prep for those busy mornings. They can be customized for whatever sounds good, are packed with protein and fiber, and the best part is they come together in minutes! Plus, the base of this simple recipe is vegan and gluten-free.
That's a wrap!
We hope this post gave you plenty of delicious ideas for your next high-protein, low-carb meal! If you make one of these recipes be sure to leave a review!