These Flat Beef Enchiladas are the BEST tasting, easiest enchilada recipe! These enchiladas are layered instead of rolled, making them insanely simple to make and crazy fast to throw together! They will be your whole family's favorite meal!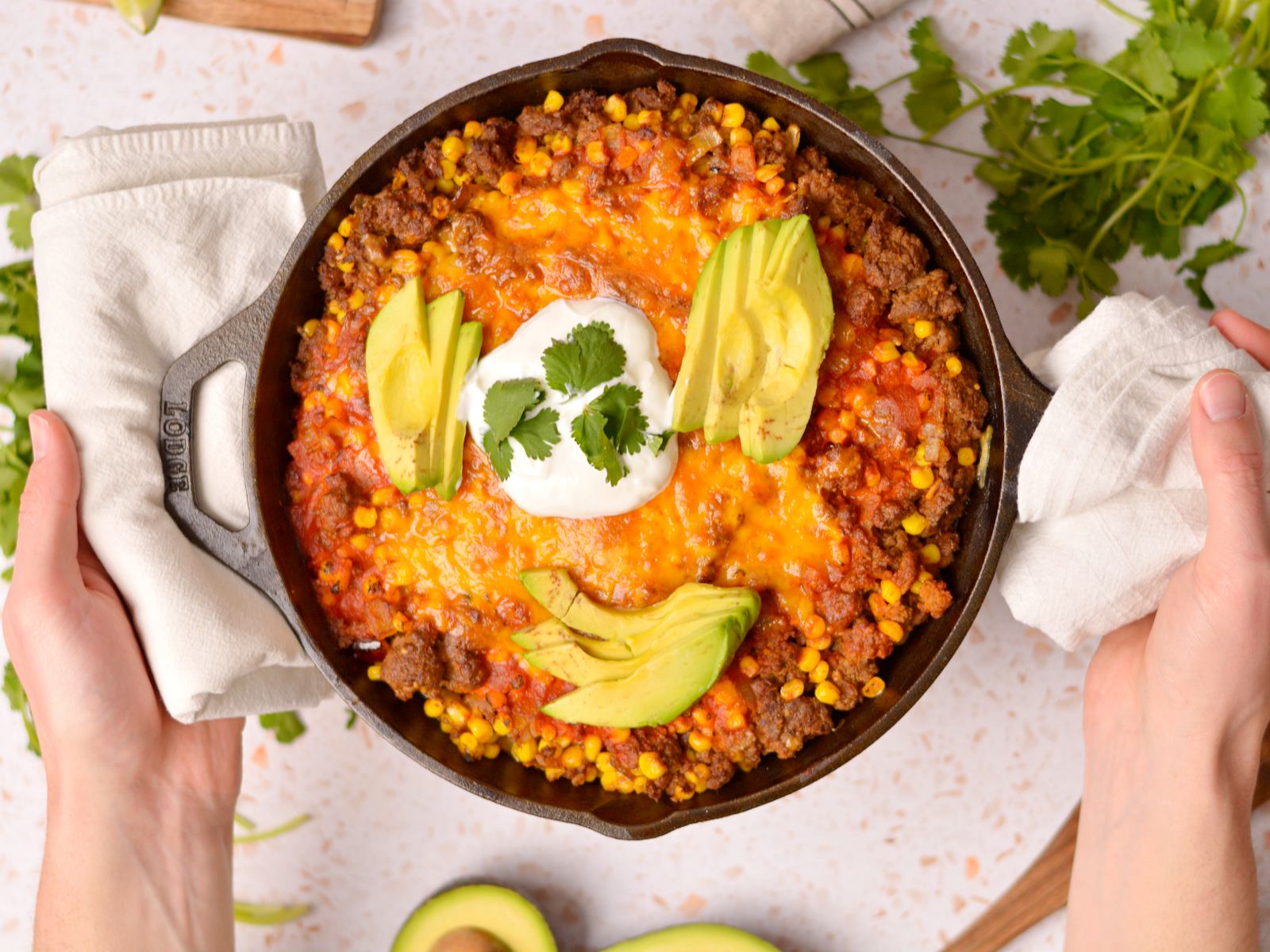 Enchiladas are the perfect easy weeknight meal. They are simple to put together and yield lots of food! Traditional enchiladas are rolled tortillas that are filled and then the sauce is poured on top of the tortillas. We took the filling and tortillas and layered them, meaning fewer tortillas and fewer carbs, but all the flavor!
We love ground beef enchiladas, (I know, not traditional) so we made these with ground beef, garlic, onion, and corn. The corn adds sweetness, and the garlic and onion add deliciousness! Some of our favorite recipes draw inspiration from Mexican food, so we hope you enjoy these as much as we do!
You can use corn or flour tortillas, but we used low-carb tortillas (flour) to make these flat low-carb enchiladas. This recipe is incredibly customizable. You could add anything you like for the filling - bell peppers, black beans, sweet potato, and so many other things would be wonderful filling additions! The recipe can easily be made gluten-free by using corn tortillas or be made vegan by using sweet potatoes and beans instead of ground beef.
This beef enchilada recipe is also great for a make-ahead dish for meal prep. Because they are drenched in sauce and filling, they do not get any more soggy from being left in the fridge. We will often make these on a Sunday for dinner ahead of a busy week. Then, we individually pack servings for lunch and freeze the rest. They really are the best enchiladas!
Flat Enchiladas Ingredients and Substitution Options:
All substitution options are a 1:1 substitution unless noted otherwise.
Ground Beef: Ground beef is the main protein of these enchiladas. They could be made with a variety of protein options but we love ground beef because it cooks quickly and reheats very well.
Substitutions: Shredded beef, chicken, sweet potatoes, or beans could be used in place of ground beef. Just cook whatever protein you choose how you normally would and then add the garlic, onion, corn, and other mix in's as stated in the recipe.
Onion and Garlic: The flavor dynamic duo! Is there anything that smells better than garlic and onion sautéing? Not really! We love using these to flavor the meat while it is browning.
Substitutions: Any type of onion (red onion or white onions) could be used in place of the yellow onion or 1 teaspoon of onion powder could be used in place of the onion. 1 teaspoon of garlic powder could replace the called-for minced garlic.
Frozen Corn: Frozen corn, while not low carb, adds sweetness to this spice-filled dish. The pop of flavor adds depth to the dish and keeps you coming back!
Substitutions: Any frozen, canned, or fresh vegetable that is either already semi-soft when fresh or has been partially cooked like bell pepper, corn, refried beans, or black beans can be used. If using canned items, drain the liquid first. Use 1 can in place of 1 bag of frozen corn.
Chipotle: Chipotle adds smokiness and spice. Chipotles are fire-roasted jalapenos usually canned in adobo sauce which has tons of flavor and spice in addition to the chipotle. So basically, chipotle in adobo sauce is a flavor bomb!
Substitutions: 2 jalapenos, serrano's, or Fresno chilis, deseeded, can be used in place of 1 can of chipotles. Check out our guide to substituting jalapenos here! Diced green chilies could also be used.
Taco Seasoning: Taco seasoning is one of my favorite shortcuts! It is a combination of multiple spices meaning you get garlic, oregano, onion, chili powder, and more in one scoop.
Substitutions: You can leave this out, use chili powder in its place, or make your own using this recipe for Taco Seasoning by Tastes Lovely.
Flour Tortillas: We used low-carb tortillas from Mission and love them because they are fluffy, flexible, and taste exactly the same as normal tortillas. Traditional enchiladas use corn tortillas and those are awesome too!
Substitutions: Corn, regular flour, or grain-free tortillas can be used.
Cheddar Cheese: You can't have enchiladas without cheese! Actually, you can, but they taste pretty dang good with freshly grated cheddar cheese.
Substitutions: Pepper jack cheese or a Mexican blend of shredded cheese would be great substitutes! The cheese can also be left out.
Enchilada Sauce: Enchilada sauce, like taco seasoning, is packed with flavor already so a great shortcut flavor-wise. It is also essential to enchiladas and is what makes enchiladas saucy, spicy, and delicious!
Substitutions: Ortega taco sauce can be used or you can make your own enchilada sauce. This can NOT be left out. Red enchilada sauce or green enchilada sauce can be used.
Toppings: We love to top these enchiladas with sour cream, avocado, or an easy one-avocado guacamole recipe!
How to make Flat Enchiladas:
Step one: Preheat the oven to 350 degrees. Dice onion and garlic.
Step two: Sauté the onion, garlic, and jalapeno in a large skillet over medium heat until fragrant, about 3-4 minutes.
Step three: Brown the ground beef in the same pan over medium heat. About 7-10 minutes.
Step four: Add the frozen corn when the meat is mostly browned. This should be about 5 minutes in.
Step five: Lay a tortilla in the bottom of a 9x9 pan, casserole dish, baking dish, or cast iron skillet. Cover the tortilla with ½ a cup of cheese, half of the meat mixture, and half of the enchilada sauce. Spread out the sauce to evenly cover everything.
Step six: Repeat this process again by laying another tortilla, ½ cup of cheese, remaining meat mixture, and remaining enchilada sauce on top of the enchilada sauce you just spread out over the beef mixture. Spread out the sauce and top with the remaining cheese.
Step seven: Bake for 20 minutes and finish the enchiladas by broiling on high for 5 minutes.
Step Eight: Top with your favorite toppings such as sour cream, fresh cilantro, black olives, and green onions, and enjoy!
Quick Facts and Common Questions:
How long do enchiladas keep?
These enchiladas will keep for 4-5 days in the refrigerator or up to 3 months in the freezer in an airtight container.
How do I store this if I have leftovers? How do I reheat?
These enchiladas should be stored covered tightly with plastic wrap or an airtight lid. Do not cover them until they have cooled completely because covering them before will result in trapped steam that will add additional moisture to the enchiladas that we don't want.
To reheat from the fridge, heat a slice for 1.5 - 2 minutes in the microwave. To reheat from frozen, heat for 3.5 minutes. For more options, check out this post on How to Reheat Enchiladas.
Can this be made vegan or gluten-free?
Sure can! By using beans or sweet potatoes and leaving out the cheese, this dish would be vegan. To make this dish gluten-free, use gluten-free tortillas.
Is this keto-friendly or low-carb?
This is not keto-friendly due to the use of corn and tortillas. But, by swapping the corn for another vegetable and tortillas for keto-friendly ones, these would be keto beef enchiladas. Because we used low-carb tortillas, this is low in carbs, and most of the carbs that it does have come from the corn. Plus, because we only use 2 tortillas, we reduce the overall carbs from regular enchiladas that would have anywhere from 4-8 tortillas.
What can you use in place of tortillas in enchiladas?
The best part about these flat enchiladas is that the tortillas can be left out entirely for an enchilada bake. To do this, lay the meat mixture into the pan, then half of the cheese, then the sauce, then the remaining cheese. For regular enchiladas, poblano peppers work great as substitutes for tortillas.
Are corn tortillas low-carb?
No, corn tortillas are considered "empty carbs". But, there are many low-carb tortilla options and you can make your own Low carb Corn Tortillas using this recipe from Sweet as Honey.
Do you need to fry tortillas for enchiladas?
Frying tortillas is a great way to keep enchiladas from getting soggy. But, for these flat enchiladas, we basically are lining the tortillas in cheese to act as a moisture barrier so there is no need to fry the tortillas.
Which tortillas have the lowest carbs?
Carbs in tortillas vary greatly but for our purposes, we will consider net carbs. Net carbs take the total carbs and subtract other nutrition (like fiber) values from the total carbs. You can always make your own low-carb tortillas like the recipe mentioned above, but there are plenty of store-bought options. If using flour tortillas, these will not be low carb.
Keto Tortilla Company offers the lowest carb option with a 6" tortilla with 0 net carbs.
Mission Whole Wheat Low Carb is the next lowest with an 8" tortilla boasting 3 net carbs. Other great options are La Tortilla Factory, Mama Lupe's, and Maria & Ricardo's whole wheat tortilla.
Try these other delicious recipes!
Recipe
These flat beef enchiladas are so simple and quick to make. They're the perfect dish for a busy weeknight or meal prep!
Print
Pin
Rate
Ingredients
½

yellow onion

1

tablespoon

garlic

minced

1

Lbs

ground beef

12

Oz

corn

frozen

1

chipotle in adobo sauce

diced

2

tablespoon

taco seasoning

2

flour tortillas

6"-8" diameter

1.5

Cup

cheddar cheese

10

Oz

enchilada sauce
Instructions
Preheat the oven to 350 degrees

Saute the onion, garlic, and chipotle until fragrant - about 3-4 minutes over medium heat.

Add the ground beef. Keep the heat at medium heat and brown the beef for approximately 7-10 minutes. Add the taco seasoning once browned.

Add frozen corn halfway through browning the beef to help the corn thaw.

Lay a tortilla in the bottom of a 9x9 pan. Cover with ½ cup of cheese, half of the meat mixture, and half of the enchilada sauce. Spread the sauce to evenly cover.

Repeat this process by laying another tortilla, ½ cup of cheese, remaining meat mixture, and remaining enchilada sauce. Spread out the sauce and top with remaining cheese.

Bake for 20 minutes. Finish the enchiladas by broiling on high for 5 minutes.

Top with your favorite topping such as sour cream, cilantro, or avocado, and enjoy!
Notes
*Nutrition information is an estimate and is for informational purposes only.*
Nutrition
Calories:
314
kcal
|
Carbohydrates:
17
g
|
Protein:
17
g
|
Fat:
20
g
|
Saturated Fat:
9
g
|
Polyunsaturated Fat:
1
g
|
Monounsaturated Fat:
7
g
|
Trans Fat:
1
g
|
Cholesterol:
61
mg
|
Sodium:
590
mg
|
Potassium:
286
mg
|
Fiber:
2
g
|
Sugar:
5
g
|
Vitamin A:
619
IU
|
Vitamin C:
4
mg
|
Calcium:
176
mg
|
Iron:
2
mg
Did you try this? We'd love to hear how it went. Please leave a review below! Or, follow and tag us on Instagram!
Mention @_Joytothefood_ or tag #joytothefood!