Learn just how easy it is to make a classic fruit tart at home! This delicious fresh fruit tart recipe is not only tasty but incredibly versatile with options to make it dairy-free and gluten-free so that everyone can enjoy it!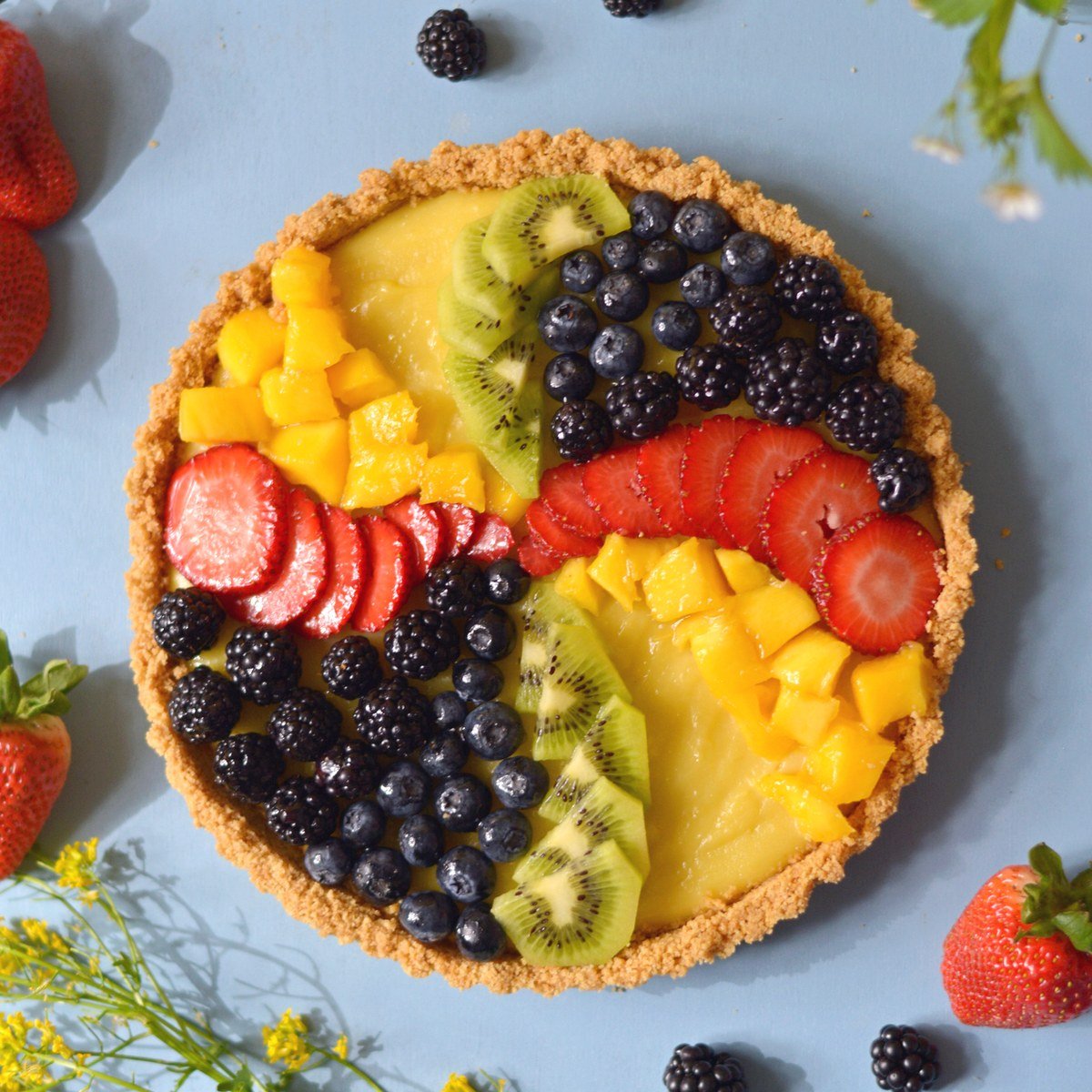 Jump to:
What is a fruit tart?
A classic French fruit tart is a pastry that can be found in pastry cases across the world. It's a real show stopper (hello Great British Baking Show!) and also incredibly simple to make! This easy fruit tart is made up of 3 main components - the base, the filling, and the toppings.
Fruit Tart Base
Traditional tart dough for a fruit tart is a crust similar to a pie crust known as a pâte sucrée. While this is tasty, when I polled family and friends they wanted a graham cracker crust, which is what we use for this fruit tart crust recipe - yum!
Fruit Tart Filling
The filling of a fruit tart is always a pastry cream. Pastry cream is made up of egg yolks, sugar, and cream. It can be flavored with whatever you like and is good on just about everything! We use vanilla flavoring for this fruit tart filling recipe.
Fruit Tart Toppings
A fruit tart is always topped with, you guessed it, fruit. You can use any mix of fruit you like to create a beautiful and delicious dessert. It also usually uses a glaze to preserve the freshness of the fruit.
Need something to go with your fruit tart? Enjoy with our One Pot Lemon Gnocchi, Mushroom Quiche, or a Chaga Mushroom Latte.
Ingredients and Substitutions
All substitutions are a 1:1 substitutes unless otherwise noted.
Graham Crackers: As I mentioned before, I and the folks I polled didn't care for a traditional pastry crust for this fruit tart. So, I went with a graham cracker crust. If prefer a traditional pastry crust, or pâte sucrée, I recommend using this recipe by Once Upon a Chef.
Substitutions: Any cookie can be used in place of graham crackers. Some of our other favorites are Biscoff cookies, vanilla cream-filled cookies, Oreos, and Chocolate chip cookies.
Butter: Butter helps to bind the crust together and provides a buttery texture to the filling without the need to use cream.
Substitutions: Salted or unsalted butter will work. For a vegan take, coconut oil can be used as a vegan butter substitute.
Sugar: A classic pastry cream melts cane sugar to produce a silky and smooth filling. We will also use it in the pie crust!
Substitutions: We use cane sugar or white sugar, but brown sugar or coconut sugar can work too! If you are concerned about the texture, you can also use confectioners and sugar in the pastry filling to ensure a silky smooth cream.
Milk: Traditional pastry cream uses whole milk. We decided to use canned coconut milk to keep it dairy free and maintain a rich texture and flavor.
Substitutions: You can use whole milk or heavy cream in place of coconut milk. You might be able to use another plant-based milk while adding an additional half of a tablespoon of butter to make up for the lack of fat. I haven't tried this, however.
Salt: In my experience, salt is always needed to help enhance sweetness, regardless of if you use salted or unsalted butter. Just be sure to taste and adjust to preference.
Substitutions: Sorry, no substitute for this.
Egg Yolks: Egg yolks thicken the pastry cream and provide its signature velvety texture. Be sure to save the egg whites to make our easy and keto-friendly Egg White Wraps!
Substitutions: You can substitute an additional 4 tablespoons of cornstarch if you don't want to use egg yolks but it may have a slightly bitter flavor.
Cornstarch: While we're using tempered egg yolks to thicken our cream, using some cornstarch helps to make sure it sets up quicker.
Substitutions: Any kind of cornstarch can be used. Arrowroot flour is another option. If you're gluten-free, just be sure to use a certified gluten-free one.
Vanilla Extract: This pastry cream is flavored with vanilla. We use pure vanilla extract because it is easiest to find in-store, but vanilla bean paste or fresh vanilla pods would be delicious!
Substitutions: I do not recommend using imitation vanilla because the flavor solely relies on this vanilla. But, a vanilla bean paste or fresh vanilla would be great! Almond extract would also be tasty in this pastry cream.
Fresh Fruit: Of course, we need fresh fruit for a fruit tart! We went with multi-colored fruit for a rainbow fruit tart. This includes strawberries, mango, kiwi slices, blueberries, and blackberries.
Substitutions: Feel free to use any kind of fruit you like! Some of our favorites are fresh berries, stone fruit, or other summer variety of fruit. For a rainbow tart effect, try shaping the fruit like a rainbow and adding whipped cream or coconut cream to the ends.
Glaze: Traditional fruit tart glaze consists of heating apricot jam with a little water, straining it, and then brushing it on top to preserve the fruit.
Substitutions: Check out our post about fruit tart glaze to see all the options!
Recipe Testing Notes
Throughout our testing of how to make a fruit tart, we learned some key things that worked and didn't work. Here are the key takeaways!
A pastry crust is not necessary: While traditional fruit tarts use a pastry crust that's supposed to be cookie-like in texture, we found it to be too hard to cut through. It also got soggy as the tart sat. Because of this, we determined the best crust was a baked graham cracker crust for flavor and texture, and for not getting soggy.
Baking versus not baking the crust: We tested this recipe with a traditional Graham cracker crust (no bake) and with a baked version, similar to what we use in our Lemon Meringue Pie. Both were tasty, but the baked version held together better for transport, cutting, and serving.
Lining with chocolate: Most fruit tarts you find in the store or in tart cases will be lined with a thin layer of chocolate. This is to keep the crust from getting soggy while the tart waits to be purchased. In our testing, we didn't have issues with the graham cracker crust becoming soggy and therefore don't find it necessary to add a chocolate coating.
How to Make This - Step by Step
I recommend reading through the entire recipe steps before getting started for the best results!
Step one: Preheat oven and prep
Preheat the oven to 350 degrees. Pulverize your Graham crackers in a blender or food processor. Then, mix the egg yolks, sugar, and cornstarch in a small bowl and set aside.
Step two: Make and bake the crust
Mix the Graham crackers with melted butter and sugar in a large bowl. Then, press into a tart pan.
I like to start on the edges and then fill in the center, pressing with a small measuring cup to keep the thickness even and thin. Bake the crust for 10 minutes until golden brown.
Step three: Temper the eggs
While the crust bakes, heat the milk on the stove in a saucepan over medium-high heat while whisking constantly. Do this just until steam starts to come off the top and the milk feels warm to the touch. Use a measuring cup to slowly pour a little bit of hot milk into the egg yolk mixture while whisking quickly to temper the eggs.
Step four: Make the pastry cream
Now, add this tempered egg mixture back to the saucepan and bring to a low boil (keep stirring!). Drop the temperature to medium heat and continue to cook for 5-7 minutes or until it resembles a thick, pudding-like texture.
Step five: Make it creamier
Remove the pastry cream from the heat and mix in the butter and vanilla extract.
Step six: Combine and let it cool
Pour the vanilla pastry cream into the baked crust (no need to let either cool). You can either put this right into the fridge or freezer on a board (so the hot pan doesn't destroy your fridge) or let it sit on the counter for 10-20 minutes until the pan is cool enough to touch. Then, transfer to the fridge for at least three hours or the freezer for one hour to set up.
Step seven: Decorate
Finally, slice your favorite fruit to make the fruit topping and top the tart with it. This should be done right before serving if possible, otherwise top with a simple fruit tart glaze using a pastry brush to keep the fruit looking fresh!
Watch How to Make This - Step by Step
Joy Tips!
To assure you can make the best fruit tart possible, here are a few helpful tips!
Read the recipe first: Anytime cooking milk is involved, I find it super important to read through the whole recipe first. And between baking the crust and heating milk, this recipe moves QUICK! If you're nervous about doing too many tasks at once, I recommend making and baking the crust first, then letting it cool while you make the cream.
Make the components and wait: If you aren't sure when you'll be serving this fruit tart, I recommend making the tart (crust and filling) and storing it in the fridge with plastic wrap until ready to serve. You can also dice up the fruit in advance to quickly place it before serving. Check our notes for storing the fruit tart below!
The glaze is optional: The glaze is only needed if you won't be serving the tart in the next hour or so. It won't add flavor and really only helps to preserve the texture and color of the fruit.
Common Questions
What is fruit tart crust made of?
Traditional fruit tart crust is a shortbread crust or pastry dough, known as a pâte sucrée. It's blind-baked before filling to ensure the bottom is fully cooked. However, you can use any kind of crust (like Graham cracker!) to make a fruit tart!
What makes a dessert a tart?
A tart is defined as a freestanding, open-faced pastry. Some cooking schools note it as having fluted or straight sides. 
Can I substitute the cream?
The beauty of this pastry cream with cornstarch and butter is that you can use any kind of milk with a high-fat content and it will still thicken. That being said, we recommend canned coconut milk as a dairy-free option or whole milk for a traditional approach. 
Can you make a tart in a pie pan?
You sure can make a tart in a pie pan! While this may no longer be the definition of a "tart" and it will be hard to get the first piece out, the tart will still taste delicious whether it's served in a tart pan or a pie tin. Another option is using a springform pan or any other pan with a removable bottom.
Recipe Variations
Potatoes make such a great base for so many versions of a breakfast baked potato! Here are some of my other favorites.
Lavender Lemon: This lemon and lavender fruit tart is a real spring and summer version. Add 1 teaspoon of lavender paste and the zest from one lemon to the cream when adding the butter and vanilla. You can top it with blueberries and candied lemon slices!
Fall Foliage: For the fall season, try adding cinnamon and nutmeg to the cream and using cinnamon Graham crackers. Top with thin apple slices (cooked or raw) and caramel sauce or a maple syrup glaze.
Tropical Tart: This fun take on the fruit tart is a must for summer. To make it, use coconut milk in the filling and mix in ginger paste or powder. Then, top with mango, pineapple, papaya, and candied ginger.
Mini Fruit Tarts: To make these in fun-size form, you can use mini tart pans or pack a bit of crust into the bottoms of muffin tins. Bake them for 10 minutes and fill them with pastry cream. Then freeze them in the muffin tins and use a silicon spatula or knife to pop them out while frozen. Then let them come to room temperature before serving and top with fresh fruit.
Want to Make this Ahead of Time?
Fruit tarts made with a shortbread crust generally need to be served within a few hours of assembling or lined with chocolate to keep from getting soggy. But, this fruit tart can be made up to a day in advance with these steps.
Make the fruit tart crust and fill it with the pastry cream.
Keep the tart in the pan and cover it. Cover it with plastic wrap and gently press it to touch the cream's surface. This keeps the cream from developing a film.
Dice desired fruit (preferably not apples since they go brown alone) and keep in an airtight container.
Store these both in the fridge for up to a day or in the freezer without fruit for up to a month.
When ready to serve, simply top with fruit and serve! If you won't be serving for a few hours, then top it with a fruit glaze to preserve the fruit.
Want to Save It For Later? Here's How!
If you have a leftover tart, it's your lucky day! While it may be best right away, no one ever said leftover fruit tart was bad… So, to make sure you aren't the first, here are some tips for storing leftover fruit tart.
Fridge: Cover the tart with plastic wrap or place the whole pie or individual slices in airtight containers. Keep in the fridge for up to 5 days. The crust may become slightly soggy on the 4th day, but still tasty!
Freezer: I don't recommend keeping this in the freezer with the fruit because the fruit will become mushy when thawed. However, it can be stored in the freezer without fruit on it for up to a month (in an airtight container). It can be eaten straight out of the freezer or can soften on the counter for 20 minutes. Enjoy!
Fun Fact
Tart's origin is slightly disputed, with some saying it is the product of layering food and others saying it is a result of medieval pie making. Either way, the first record of a tart made with a short crust dough is in 1550 when it was considered a high-end pastry only for the rich. (source)
More Fruity and Fun Dessert Recipes!
Did you try this and love it? Leave us a review, we would love to hear from you!
Recipe
If you want to know everything about how to make a fruit tart from the crust to the glaze then this post is for you!
Total Time:
1

hour
20

minutes
Print
Pin
Rate
Ingredients
Fruit Tart Crust
1.5

cups

graham crackers

crushed

⅓

cup

cane sugar

4

tablespoon

butter

melted, salted or unsalted
Fruit Tart Filling
1

can

coconut milk

13-14oz or 1.75 cup of whole milk

6

egg yolks

¼

cup

cornstarch

1

cup

cane sugar

1

teaspoon

pure vanilla extract

1

tablespoon

butter

salted or unsalted

¼

teaspoon

salt
Fruit Tart Toppings
2

cups

fruit

berries, mango, kiwi, stone fruit, or other
Instructions
How to Make Fruit Tart Crust:
Preheat oven to 350 degrees.

Mix the Graham crackers, melted butter, and sugar in a large bowl.

Pour this into a tart pan* and press into an even layer. Start with the sides, using a small measuring cup to create a thin and even layer across the sides and bottom.

Bake this for 10 minutes and then remove and let cool while you jump to the cream.
How to Make Pastry Cream:
Whisk together egg yolks and sugar. Then whisk in cornstarch and salt. Set this bowl next to the stove in preparation for the next step.

Heat milk over medium heat while whisking to keep from burning. Bring to a low boil then remove from heat and slowly pour a small amount (about ¼ to a ½ of a cup) into the bowl with the egg yolk mixture while mixing quickly to keep the yolks from scrambling.

Return the tempered egg yolk mixture to the saucepan and keep whisking.

Bring the mixture to a low boil and then reduce the heat to low. Continue to cook while whisking constantly until the mixture thickens to a pudding like consistency.

Remove from heat and mix in the vanilla and butter to the pastry cream.

Pour the pastry cream into the tart crust. Top with a layer of plastic wrap that is just touching the top of the cream (you can wait to do this for 10 minutes and the cream to cool a bit if you are worried about the plastic touching hot cream). Place in the fridge for at least 3 hours or in the freezer for 1 hour to set up.**

After it sets up and right before serving, top with sliced fruit and fruit tart glaze. The glaze is optional but recommended if you will not be serving the fruit tart for a few hours (traveling, for example) or want that classic shine.
Notes
Nutritional Information is an estimate, for informational purposes only.
Substitution options and recipe tips can be found in the post above.
*If you don't have a tart pan, you can use a pie pan, spring form pan, or other pan with a removable base. You can also use muffin tins by following the directions above under "Variations".
**This pie can be stored in the freezer in an airtight container without the fruit for up to 1 month. When ready to top it, simply remove it from the freezer, top it with fruit, and let it rest on the counter for 20 minutes before serving.
Nutrition
Calories:
452
kcal
|
Carbohydrates:
60
g
|
Protein:
5
g
|
Fat:
23
g
|
Saturated Fat:
12
g
|
Polyunsaturated Fat:
3
g
|
Monounsaturated Fat:
6
g
|
Cholesterol:
146
mg
|
Sodium:
283
mg
|
Potassium:
209
mg
|
Fiber:
2
g
|
Sugar:
44
g
|
Vitamin A:
687
IU
|
Vitamin C:
2
mg
|
Calcium:
46
mg
|
Iron:
3
mg
Did you try this? We'd love to hear how it went. Please leave a review below! Or, follow and tag us on Instagram!
Mention @_Joytothefood_ or tag #joytothefood!