A fruit tart glaze gives tarts that classic shine and can help extend the life of your tarts! In this post, we'll cover just how simple it is to make a glaze, with both a one-ingredient version and a two-ingredient version.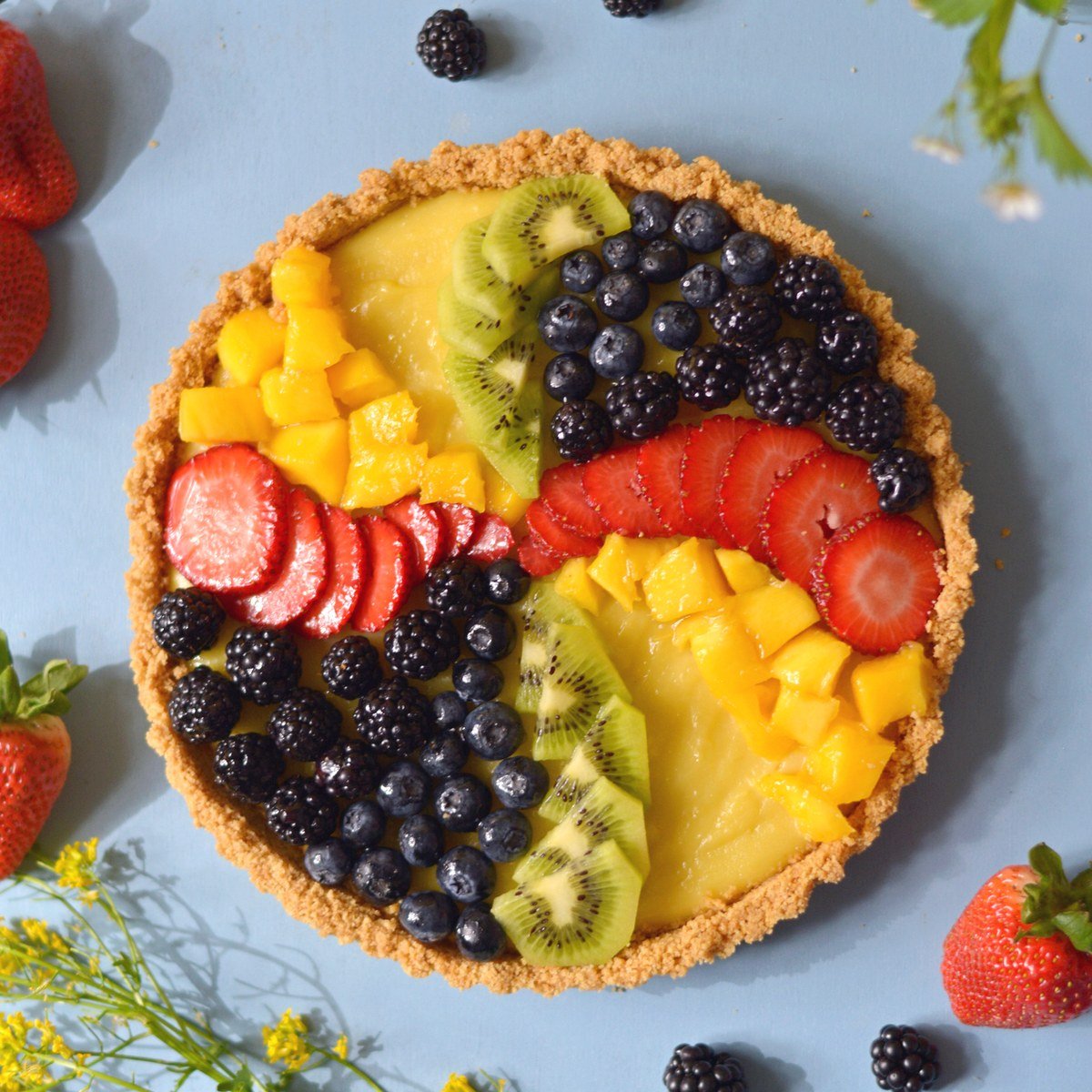 Jump to:
All About Fruit Tarts and Why You Need a Glaze
A classic French fruit tart is a pastry that can be found in pastry cases across the world. It's a real show stopper (hello Great British Baking Show!) and also incredibly simple to make! This easy fruit tart is made up of 3 main components - the base, the filling, and the toppings.
A fruit tart is a traditional French pastry that consists of a buttery shortbread crust baked in a tart pan (a pan with a removable bottom), filled with a vanilla pastry cream made of egg yolks and vanilla extract (or vanilla bean paste), and topped with loads of fresh fruit and a fruit glaze. It can be served as a full-sized tart or as a mini fruit tart.
A fruit tart glaze is a shiny sauce that goes on top of fruit tarts. But, it can also be used to coat fruit on any dessert like a cheesecake or frangipane tart. The glaze is used to protect the fruit and keep it looking fresh for serving or selling.
Fruit tart glaze can be made with a variety of ingredients. A classic French fruit tart typically uses jam or jelly, usually apricot or currant, mixed with a little water to thin it out, as the glaze. Beyond that, we will cover a handful of other ways to make a fruit tart glaze so your fruit shines!
Need some more tasty desserts to enjoy with your fruit tart and glaze? Try our Super Easy Cheesecake without cream cheese, Gluten Free Strawberry Crunch Cake, or our Lemon Meringue pie.
Ingredients and Substitutions
All substitutions are a 1:1 substitutes unless otherwise noted.
Jam or Jelly: Traditional fruit tart glaze uses jelly or jam that has been heated up and mixed with a little water.
Substitutions: You can use any kind of jam or jelly you like (apricot preserves, currant jam, apple jelly, etc). The only problem with these is that the flavor and color may affect the overall flavor of the tart and the color of the fruit. If you are using dark-colored fruits like fresh berries, then the color may not matter as much as if you are using light-colored fruit like nectarines or dragon fruit.
Water: A little water helps to thin out the jam, jelly, or sweetener so it is easier to spread over the fruit.
Substitutions: Sorry, no substitute for this. But if you are using agave, you will not need to add water.
Liquid Sweetener: I actually prefer to use the liquid sweetener, agave, to glaze my fruit tart because it requires zero extra work other than to brush it on and produces a nearly completely clear glaze.
Substitutions: Agave, honey, corn syrup, or maple syrup can be used. You will not need to add water to agave or maple syrup, but be cautious of the strong flavor of maple syrup.
Recipe Testing Notes
Throughout our testing of this fruit tart glaze, we learned some key things that worked and didn't work. Here are the key takeaways!
Straining vs. not straining: We tried this glaze with both straining the jam mixture and not straining it. We found that when brushing the glaze onto the tart, we did not need to strain the fruit from the jam in the glaze. But, if we were tossing the fruit in the glaze, we needed to strain the jam mixture.
When to use water: During testing with jam, jelly, or honey we discovered that a little water and heat were needed to thin out the mixture and make it brushable. But when using agave or maple syrup, we did not need to add water.
2 Ways to Make This
I recommend reading through the entire recipe steps before getting started for the best results!
Option 1: Glaze with jam, jelly, or honey
To make a glaze with any of these, heat them up in a small bowl for 15 seconds. Then mix in a little water to thin out the glaze and strain out any chunks of fruit from the jam as needed. Use this apricot glaze (or other) to either toss the fruit in before placing it on top or brush the glaze on top of the fruit on the tart.
Option 2: Glaze with agave or maple syrup
To make a glaze with agave or maple syrup, simply pour it into a bowl and brush it on top of the fruit or toss the fruit in the glaze.
Watch How to Make This - Step by Step
Joy Tips!
To make sure your fruit tart glaze turns out perfect, here are a few helpful tips!
Heat as needed: Sometimes jam, jelly, or honey can be too thick to mix. If this is the case, heat it up for 10-15 seconds in the microwave or in a small saucepan over medium heat until soft. This may not be needed for all jams, jellies, or honey though.
Brush or toss: Glaze can be used to toss the fruit in and then placed or brushed on. In our tart recipe where we detail how to make a fruit tart, we like to brush on the glaze with a pastry brush because we find it easier to place the fruit before glazing them. Either way will work great though!
Glaze thickness: We like a super thin glaze that only adds shine and not flavor. But, if you want more glaze (think full layer with an even thickness between the fruit too), double or triple the glaze ingredient quantities.
Common Questions
What type of glaze is most commonly used in tarts?
Apricot or currant jam mixed with water is the most common type of glaze for fruit tarts.
Why are fruit tarts glazed?
Fruit tarts are glazed to keep them looking fresh while they sit and wait to be eaten. It also helps to protect certain fruit from browning.
What is the difference between candied and glazed fruit?
Candied fruit is made by dipping fruit into sugar that has been melted to a certain temperature and then cooled. Glazed fruit is made by brushing on a sugary glaze that is thin and doesn't harden. 
What else can fruit tart glaze be used for?
Fruit tart glaze can be used for any dessert that has fruit on top, not just fresh fruit tart. This could be a cheesecake, cupcake, fruit pizza, or pie.
Want to Save It For Later? Here's How!
This glaze only makes enough for one tart so you should not have leftovers. If you do, though, it can be kept in the fridge, covered, for up to 4 days. When ready to use just remix or heat for a few seconds as needed to thin it out again.
Fun Fact
Tart's origin is slightly disputed, with some saying it is the product of layering food and others saying it is a result of medieval pie making. Either way, the first record of a tart made with a shortcrust dough is in 1550 when it was considered a high-end pastry only for the rich. (source)
More Fruity and Fun Dessert Recipes!
Did you try this and love it? Leave us a review, we would love to hear from you!
Recipe
This glaze is easy to make and is perfect for making your fruit tart or other dessert shine!
Print
Pin
Rate
Ingredients
Glaze Option 1: Jam, Jelly, or Honey
2

tablespoon

jam, jelly, or honey

apricot, currant, or other

1

teaspoon

water
Glaze Option 2: Liquid Sweetener
2

tablespoon

liquid sweetener

agave, corn syrup, or maple syrup*
Instructions
To make with jam, jelly, or honey
Place the jam, jelly, or honey of choice in a bowl and heat in the microwave for 10 seconds to soften.

Mix this with the water to thin it out.

Brush this onto the fruit on a tart or toss the fruit in the glaze prior to placing on the tart. If tossing in fruit, we recommend doubling this recipe to have enough to completely coat the fruit.
To make with liquid sweetener
Pour out the liquid sweetener into a small bowl

Brush onto the fruit on top of the tart or toss the fruit in the glaze prior to topping the tart.
Notes
Nutritional Information is an estimate, for informational purposes only.
Substitution options and recipe tips can be found in the post above.
*If using maple syrup, be aware that it will affect the overall flavor of the tart.
Nutrition
Calories:
258
kcal
|
Carbohydrates:
67
g
|
Protein:
0.2
g
|
Fat:
0.2
g
|
Sodium:
4
mg
|
Potassium:
24
mg
|
Fiber:
0.2
g
|
Sugar:
63
g
|
Vitamin C:
7
mg
|
Calcium:
3
mg
|
Iron:
0.2
mg
Did you try this? We'd love to hear how it went. Please leave a review below! Or, follow and tag us on Instagram!
Mention @_Joytothefood_ or tag #joytothefood!
Follow my blog with Bloglovin