Need something for those early mornings or late nights to get you through a feeding? Try this super simple and nutrient-packed Protein Shake For Breastfeeding. Packed with oats, dates, flaxseeds, spinach, and so much more!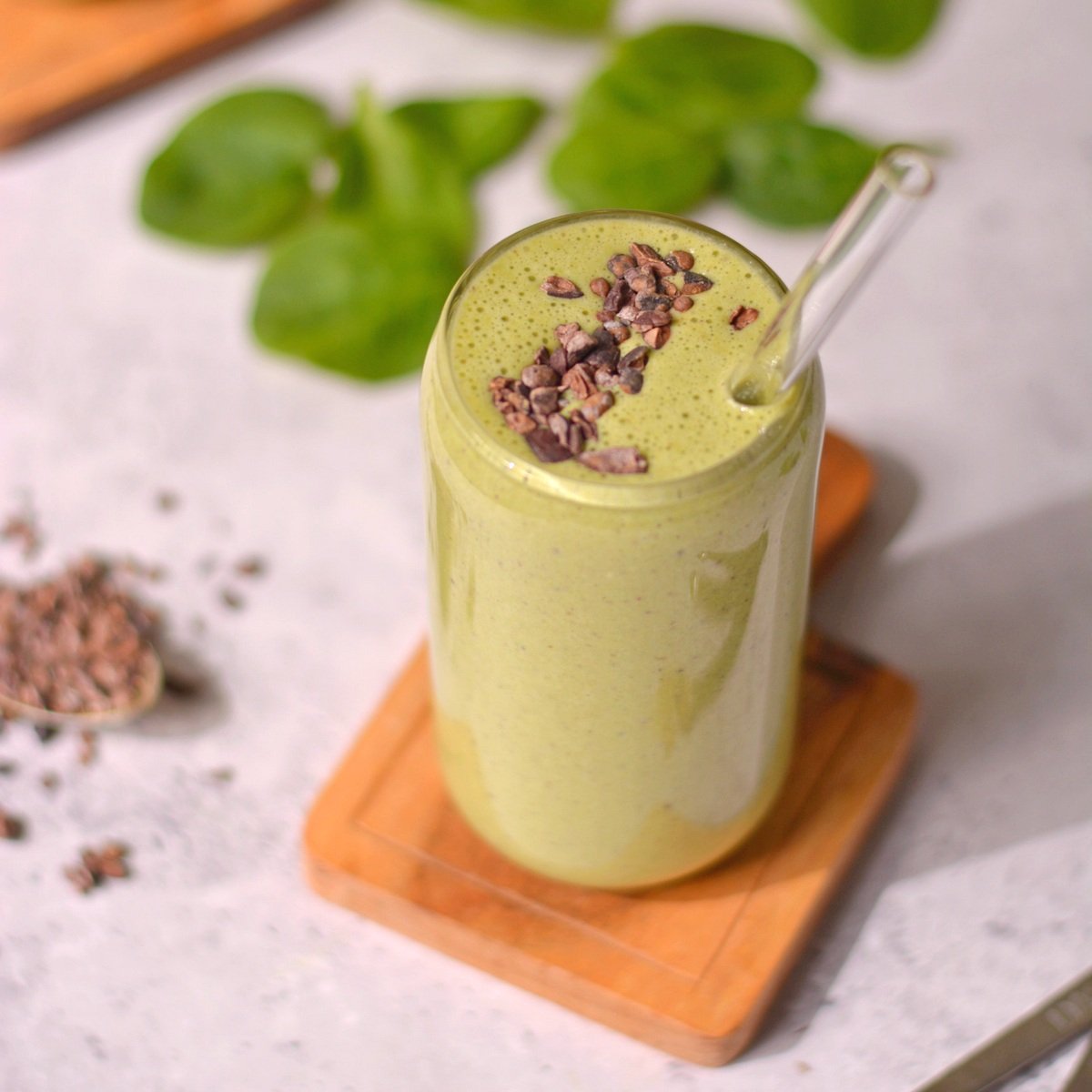 Now that we have a little one that I'm feeding, I need the essential nutrients that will keep me full and keep the milk flowing. For me, the best way to get all of this is to drink protein shakes!
You can pack so many high-quality ingredients to meet a new mom's nutritional needs into a delicious-tasting smoothie. Plus, they're part of a healthy diet and are super easy to enjoy while feeding your baby - win-win!
This protein shake for breastfeeding is inspired by our time in California. When we went for hikes, we would either get brunch or a smoothie after. One of the spots right next to our favorite trail had this spinach smoothie that was my go-to drink. It's sweet, and salty, and filled with protein and natural ingredients like dates, clean protein powder, and almond butter!
While that smoothie wasn't created for breastfeeding moms, this recipe is! It has all the good stuff that may increase milk supply like oats, dates, and flaxseed; protein powder and nut butter to keep you full. So let's get to making the best protein shake for breastfeeding!
Looking for other easy and filling recipes - try these:
Jump to:
Does Protein Help Milk Supply?
So, to start this post I wanted to address the important role protein plays in breast milk supply. Protein is the building block of breast milk and an important part of a healthy milk supply for any breastfeeding mama. Your body uses an immense amount of protein to heal after birth and in the production of breast milk. Therefore, extra protein is a huge benefit!
It also is one of the main nutrients you're passing on to your baby. Because of this, we always want to make sure the protein we are ingesting is high quality, with a limited ingredient list, and safe for the baby.
This means our bodies need protein to produce breast milk and it needs even more protein to transport to the baby via the breast milk. For this reason, it's important women take in enough protein to keep up with demand. Meeting daily protein demands has also been shown to increase energy levels and decrease sugar cravings. (source)
Ingredients and Substitutions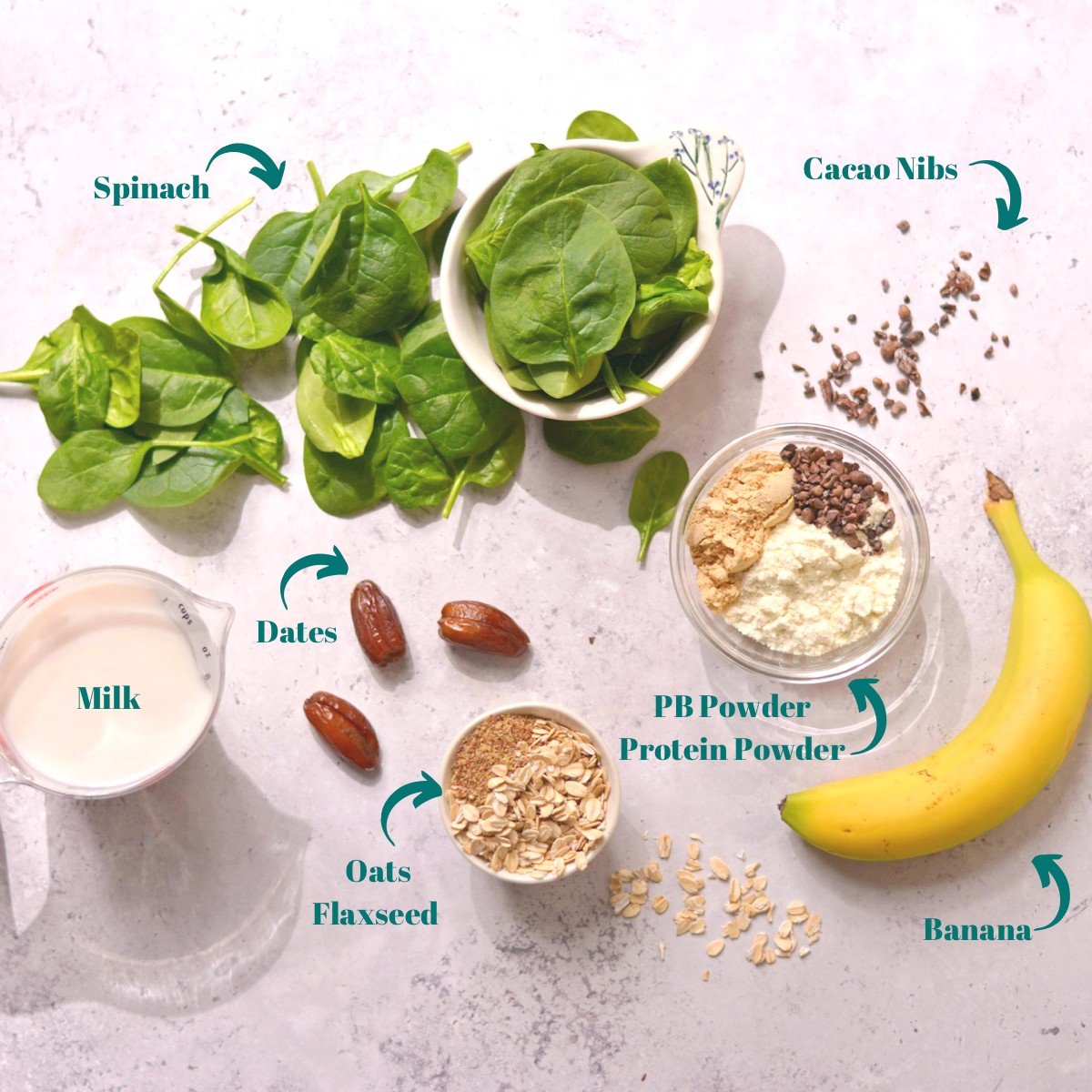 All substitutions are a 1:1 substitute unless otherwise noted.
Rolled Oats: Oats are one of the ingredients that are always recommended to lactating mothers to increase supply. While the science behind that may not be conclusive, oats are definitely a filling and complete grain that will provide you with energy throughout the day.
Substitutions: Quick oats or rolled oats can be used. Steel cut shouldn't be used. You can leave the oats out if needed.
Flaxseed: I love to add flaxseed to smoothies for more substance and to get some extra fiber. Flaxseed also has some protein, making it a good ingredient for ensuring you're hitting that adequate amount of protein throughout the day.
Substitutions: Flaxseed can be purchased in ground form or as whole seeds. I prefer to use ground because it's easier but the seed version offers slightly better nutrients because you retain more of the healthy fats from the seed. Chia seeds can be used in place of flaxseeds. You can also just leave the flaxseed out.
Vanilla Protein Powder: Of course, we need protein powder for a protein shake! I believe the best breastfeeding-friendly protein powder (and protein powder in general) is I Heart Macros protein powder because it doesn't have a chalky taste, it's easy on the tummy, and has limited ingredients. 
Substitutions: The protein powder we use is a whey protein powder, but you can use a lactation protein powder, plant-based proteins, or vegan protein powder if your baby has issues with dairy products.
Spinach: Spinach is rich in iron and antioxidants making it a great addition to this smoothie.
Substitutions: I like to use fresh spinach but you can use frozen spinach.
Peanut Butter Powder: Peanut butter powder is such a cool ingredient because it makes smoothies so fluffy while adding nutrients. You can get it at stores like Walmart, Costco, or on Amazon. Also, it provides extra calories that help a breastfeeding mother produce milk!
Substitutions: Any unsweetened nut butter can be used.
Milk: We like to use oat milk to keep up the oats theme.
Substitutions: Any type of milk you like can be used. Busy moms can use what they have on hand!
Cacao Nibs: This is a secret that I stole from the original California smoothie. Cacao nibs add a great crunch with natural flavors but no sugar!
Substitutions: Any kind of chocolate chips can be used. If you are looking for cacao nibs in the store, they can be found in health stores like local food co-ops or Whole Foods near the other supplements. They can also be found on Amazon here.
Dates: Dates provide natural sweetness and fiber, both of which are great for a filling and healthy smoothie.
Substitutions: I use pitted dates, but you can use dates with pits and just remove the pit before blending. You can also use maple syrup, honey, or agave in place of dates.
Banana: Bananas are a trick to make smoothies super fluffy! You can even freeze them before making the smoothie for an almost ice cream consistency and then you wouldn't need the ice!
Substitutions: Sorry, no substitution for this.
Optional: If you are looking for more ways to pack in nutrients to this smoothie, try adding tahini, adaptogenic powder, or brewers yeast.
Testing Notes
Throughout our testing process, we learned some key things that worked and didn't work. Here are some of the key takeaways.
Blend longer than you think - Because of the oats, cacao nibs, and dates, this smoothie becomes fluffier the longer you blend it.
Oats don't need to be blended separately- Initially, we thought the oats would need to be blended first in order to fully blend smooth. Upon testing, we realized that everything can be blended together at once and the texture is the same as if the oats were blended separately. This is due to the high liquid content of the smoothie that allows the oats to fully blend.
How to Make this - Step by Step
Be sure to check the recipe card for full instructions and ingredients for making this protein-packed shake.
Step one: Add it all
Add everything to the blender.
Step two: Blend
Blend for 1 minute and enjoy!
Watch How to Make This - Step by Step
Helpful Tip!
Don't like the taste of your protein powder? Use less! You can add as much or as little protein powder as you like and the texture and flavor will still be fantastic. While there is no best protein powder for breastfeeding, some are better than others. Try to find one with the least amount of ingredients and all clean ingredients.
Common Questions
Are protein shakes ok while breastfeeding?
Yes! Protein shakes are a great way to pack in extra grams of protein while being a convenient way to keep up with the baby. Just be cautious of the protein powder you use, as not all would be considered safe protein powders for breastfeeding if they have tons of additives or artificial sweeteners. Some babies have issues with whey protein and we always want to limit the added ingredients.
Can you eat too much protein powder while breastfeeding?
Not really. I mean, you can always ingest too much protein no matter if you are breastfeeding or not. However, you would need to eat a large amount of protein to be eating too much and you would be so so full.
Want to Save It For Later? Here's How!
Because I'm crazy, I don't like leftover smoothies AT ALL. They are slimy yet slightly separated and I just don't get it. For this reason, I recommend only making what you will eat. But, there are ways to save it and have it taste good.
Fridge: For the fridge, simply keep the blended smoothie covered in the fridge for up to 2 days. When ready to enjoy, just re-blend the mixture. You can also put everything except the milk for the smoothie in the blender, in an airtight container, or in plastic wrap. Store in the fridge before blending. This can be kept for up to 5 days and then just dumped into the blender with milk when you want it.
Freezer: This smoothie should not be stored blended in the freezer because the solids and liquid will separate when thawed. To freeze the smoothie, put everything except the milk in a freezer-safe container and freeze it for up to 3 months. When ready to enjoy, place the contents in the blender with milk, leave out the ice, and blend. 
More Joyful Recipes!
Looking for more delicious smoothie recipes? Check these out!
Peanut Butter Avocado Smoothie
5-Ingredient Purple Smoothie Bowl
Did you try this and love it? Leave us a review, we would love to hear from you!
Recipe
This protein shake for breastfeeding is for all those hard-working mamas out there who need an easy, tasty, and nutrient-packed meal!
Print
Pin
Rate
Ingredients
¼

cup

rolled oats

1

tablespoon

flaxseed

1

scoop

vanilla protein powder

½

cup

spinach

1

tablespoon

peanut butter

½

cup

ice

1

cup

oat milk

unsweetened

½

tablespoon

cacao nibs

3

dates

1

banana
Instructions
Add all ingredients to a blender and blend until smooth.
Notes
*You can freeze the banana in advance for a creamier texture. If doing this, leave out the ice.
Optional add-ins:
1 tablespoon tahini

1 teaspoon adaptogenic powder or Chaga powder

1 teaspoon brewers yeast
Nutritional information is an estimate and for informational purposes only.
**If breastfeeding, always consult with your doctor about what is safe for YOU to consume**
Nutrition
Calories:
655
kcal
|
Carbohydrates:
97
g
|
Protein:
35
g
|
Fat:
18
g
|
Saturated Fat:
4
g
|
Polyunsaturated Fat:
5
g
|
Monounsaturated Fat:
4
g
|
Cholesterol:
62
mg
|
Sodium:
311
mg
|
Potassium:
1160
mg
|
Fiber:
13
g
|
Sugar:
50
g
|
Vitamin A:
1976
IU
|
Vitamin C:
15
mg
|
Calcium:
574
mg
|
Iron:
4
mg
Did you try this? We'd love to hear how it went. Please leave a review below! Or, follow and tag us on Instagram!
Mention @_Joytothefood_ or tag #joytothefood!