Buttery, flaky biscuits are the perfect afternoon snack. But, what about serving them with a variety of other meals and foods? Biscuits can be enjoyed in so many ways! Here are a few of our favorites, some unique and some classic.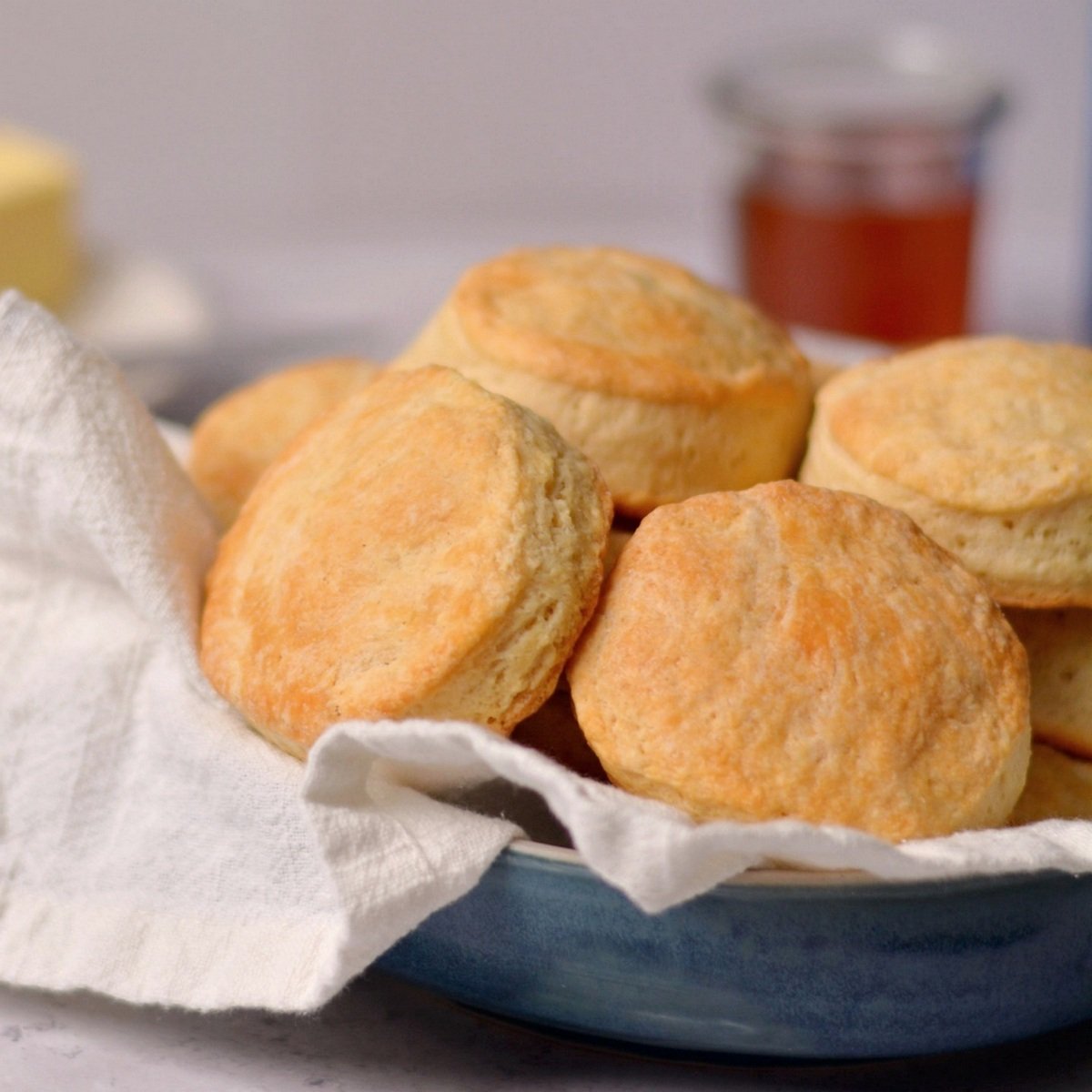 I absolutely love biscuits with jam and butter - the classic! But, there are so many other ways to enjoy biscuits that I have discovered after having a stash of protein biscuits in the freezer. I have compiled a list of some fun and delicious ways to serve biscuits that I have been loving!
What Are The 4 Types of Biscuits?
Rolled biscuits, drop biscuits, scones, and shortcakes are the primary biscuits. Each lends itself to certain pairings better than others.
Rolled biscuits use baking powder to help them rise and are one of the most popular types around. Be sure to check out our biscuit recipes (hello

protein biscuits and apple cobbler

!).
Drop biscuits have more liquid and require being "dropped" from a spoon to bake. This makes them great for topping cobblers or other filling based recipes.
Scones are also considered a biscuit, but are flavored with sweet or savory mix ins. Scones are made with cream and butter resulting in a heavy crumb texture and a slightly crusty exterior.
Shortcakes are also in the biscuit family. They usually have more sugar in them than a drop or rolled biscuit. They are usually cut in half to serve with whipped cream and fruit.
Jump to:
What To Eat With Rolled Biscuits
I love love love chicken pot pie and topping it with rolled buttermilk biscuits makes it that much better! This recipe is simple to make and filled with all the comforting flavors. A creamy sauce, juicy chicken, vegetables, and lots of spices make this a great pairing for biscuits.
This is another way to use biscuits. It is a fun and family friendly recipe that just requires flattening biscuits and filling them. Then they all get baked together in a pan and served pull apart style. How fun!
Similar to the cheesy potato bread, this monkey bread is meant to be pulled apart when enjoying it. It uses biscuit dough cut up and rolled in a delicious cinnamon sugar mixture to bake into a tasty treat that everyone will love! And it whips up quickly for a hassle free dessert.
This is my favorite way to enjoy fluffy biscuits! Take a warm biscuit, spread some rhubarb jam and honey butter and call it a day. Or, do butter on one side and jam on the other for two different bites! Or do a little peanut butter and honey i you're feeling a little crazy.
Often times biscuits are served with sausage gravy, but I like to serve homemade biscuits with vegetarian gravy for a lighter take. You could also add some collard greens and green tomatoes to really hammer home the southern flavor.
These sandwiches are awesome to meal prep! They are topped with crispy bacon, a runny egg, and cheddar cheese. This one also has a honey that is spiced with hot sauce for an extra kick.
What To Eat With Drop Biscuits
I absolutely love peach cobbler! It's juicy, sweet, and perfect when topped with golden brown drop biscuits. This recipe is super easy to throw together too because you simply drop the biscuits on top of the fruit and bake all together.
Serving pork chops with biscuits is a great way to get dinner on the table quickly. These pork chops are made in the instant pot and include a sauce and vegetables all in one cooking method. This way, you can focus on the drop biscuits!
I love a good breakfast moment and this spicy sausage egg bake served with drop biscuits is just that! This egg bake is packed with flavor and to quote my dad "woh, I would buy this at a restaurant". As for the biscuits, I think this egg bake would be phenomenal with some black pepper drop biscuits and hash browns for a full breakfast spread!
What is better than chili on a cozy Sunday? Ground beef chili served with cheddar jalapeno biscuits! Soup and biscuits may not seem like a go to combo, but I promise, this chili or even a chicken noodle soup, goes great with drop biscuits.
When wondering what to eat with the humble biscuit, I often think of equally simple dishes. This Tuscan chicken checks those boxes. Like many Italian inspired recipes, this easy recipe only uses a few classic ingredients to make the most creamy and flavorful sauce that is perfect for dipping a biscuit into!
What To Eat With Scones
You're eating eggs for breakfast, that is savory so obviously you need something a little sweeter to pair with it. Ah! Sweet scones are the perfect pairing to eat with an egg bake to have a little sweet and little savory option.
I might be extra, but again breakfast moments are my thing. Scones are the perfect center piece to a breakfast spread because you could do plain biscuits or scones, a sweet scone, and then a savory scone like rosemary parmesan! Serve these with bacon, eggs, fruit, cream cheese, and yogurt to complete the look.
This is a staple pairing for scones. Breakfast sausage is easy to find in store and easy to make from scratch with a recipe like this one. This recipe will bring back all the emotions of a great Saturday morning breakfast in a home full of love and laughter!
This may sound unconventional, but recipes like this are my comfort food. The refreshing notes of key lime with creamy yogurt to sustain your energy throughout the day make this parfait the perfect compliment to white chocolate or plain scone.
Another oddly comforting food for this Californian. Ok, maybe not odd because if it has to do with fruit, I want it. This chia seeding pudding is great for meal prep and even tasty when spread onto a scone (might I recommend a brown sugar scone?!).
What To Eat With Shortcakes
Oh man, don't get my started on strawberry shortcake. This strawberry filling is one of my favorite toppings for buttery biscuits! The sweetness and slight tang of the strawberries will compliment your favorite biscuits delightfully, especially when you put a dollop of freshly made whipped cream on them.
Similar to the strawberries, these stone fruits are only in season in the summer months for a short time meaning you should definitely buy in bulk, make this recipe, and use them on top of shortcakes. Peach and nectarines are great with shortcakes because their flavor is somewhat mild and almost buttery which compliments and enhances the flavor of a light and fluffy shortcake.
This is a super fun recipe to pair with shortcakes! The honey whiskey adds that unexpected bite to the sauce for the peaches and the shortcake is the ultimate vessel to get this amazing sauce into your belly!
While this recipe is for ricotta toast, shortcakes can easily replace the toast. Whipped ricotta is light and fluffy making it perfect for topping on a shortcake. And roasting pineapple brings out more sweetness thus creating a melody of flavors in your mouth!
If California had a flavor, it would be this. I grew up with an apricot tree, so of course I had to close out these pairing ideas with what I would most likely eat and that is goat cheese, apricots, and pistachios. Creamy - check, sweet - check, extra crunch - check!
That completes our list of what to eat with biscuits. We hope you found the perfect recipe! Enjoy your biscuits!